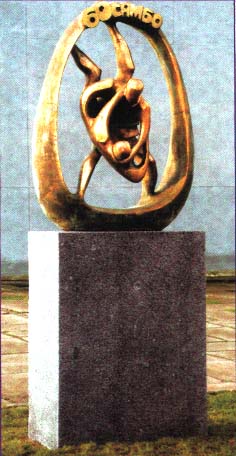 Sculpture in Moscow, Russia
celebrating 60 Years of Sambo in October 1998
Click HERE to go to the next page on historical highlights on SAMBO - SOMBO.
Sincere congratulations and thanks to the Russian people for bringing Sambo to the world,
specifically to the creators of the sport and the promoters, leaders,
and athletes that made sambo what it is today.
The same greetings and wishes go to many neighboring countries who have been longtime active sambo contributors.
It is my sincere wish that "Borba Sambo" will be a world class sport,
represented by many countries of all five continents,
unified in the same spirit of sportsmanship, cooperation, and goodwill.
My personal thanks to Master of Sport Vadim Slavin for introducing and coaching Sambo at UBC, Vancouver Canada,
and to Master of Sport Michael Chernyh for coaching a second class and the UBC Sambo team in competition.
Thanks to Joe McCarthy and Walter Lanz, UBC Judo Coaches for their cooperation.
A very personal thanks and greetings to the Merited Master of Sport Igor Kurinnoy for his friendship and cooperation.
Thanks to the University of British Columbia, the Student Recreation Centre and
specifically Ms. Sonya Lumholst-Smith, the Campus Recreation and UBC Fitness Coordinator.

Thanks to the UBC SAMBO members for their participation, the UBC SAMBO Team captain, Logan Ailles
for his bottomless enthusiasm, helpfulness, and leadership, and
to my good friend Oleg Taktarov for visiting, promoting, and inspiring us.
Thank you for visiting the site and thanks to those who have emailed me their comments.
Thanks to the Russian Sambo Federation and its publication "Sambo Rossii" from where many of the pictures were reproduced for this section.
The following pages are in full construction and will be completed gradually.
Thank you for your patience and enjoy!
Your comments and critiques will be appreciated at ubcsambo@usa.net
Sincerely,

Luc

Click HERE to go the next page on historical highlights on SAMBO - SOMBO.
P.S.: Use the "BACK" button of your browser to go back to the previous page or go to UBC SAMBO menu page.